You are here
Home

/

Subject Area Reference
Subject Area Reference
An Infopeople Independent Online Learning Series
Dates: Classes start every Tuesday
Course Instructor: Francisca Goldsmith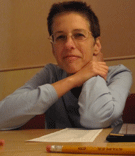 Subject Area Reference is a series of modules for library staff who have attained the core competencies of reference fundamentals. In addition to the subject areas addressed in this series, you may be interested in expanding your knowledge of providing health and wellness information. That topic is addressed in a separate series of independent online learning modules, titled Health and Wellness Competencies, for which you can register separately, again at any time, through the Infopeople course registration page.
Course Description: Six modules are available as independent online learning opportunities.
The six modules in this fully asynchronous series address these specific subject areas in which a generalist reference provider may be expected to provide assistance:
Genealogy
Government and Law
Business Resources and Job Hunting
Consumer Information
Poems, Songs and Quotations
Homework Help
Time Required: Each module requires about two hours to complete. Registration is ongoing for immediate enrollment and you will work independently, with the facilitator available to you upon request. You will have two months from the date of enrollment to complete work..
Who Should Take This Course: Anyone with an interest in subject-specific reference service or collection development may enroll. However, completion of CORE Reference Fundamentals or an equivalent level of knowledge and experience in provision of reference services is expected.
Online Learning Details and System Requirements may be found at: infopeople.org/training/online_learning_details.
Course Start: Classes start every Tuesday. You will receive your login information the morning before your session begins. If you do not receive an email with your login information, please contact Gini Ambrosino at [email protected].