You are here
Home

/

Health and Wellness Competencies
Health and Wellness Competencies
An Infopeople Independent Online Learning Series
Dates: Classes start every Tuesday
Course Instructor: Francisca Goldsmith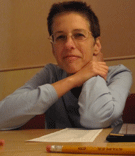 Nearly a fifth of our nation's GDP is spent on health care – double that of any other nation. The most significant growth in health care spending, according to the Public Health Institute, stems from an increase in the growing burden of chronic diseases linked to modifiable population risk factors such as obesity and stress. Since the devastating effects of such chronic illnesses can often be prevented or controlled by adopting healthy behaviors, health promotion has been identified as holding great potential for reducing health care costs for all. Public and consumer health librarians are essential for linking patrons from all walks of life to quality health information in appropriate formats.
Course Description: This training consists of six self-paced online modules that will help librarians and library staff gain the knowledge to provide outstanding consumer health services and extend the role of the library with regard to building healthy communities. The modules utilize the Finding Health and Wellness @ the Library: A Consumer Health Toolkit for Library Staff as its textbook, a free resource created through a partnership between the California State Library and the National Network of Libraries of Medicine, Pacific Southwest Region (NN/LM PSR).
When you register for the Health and Wellness Competencies you will have access to all the modules in this series for two months. You may choose to complete as few as one or as many as all six. Each one is graded independently. You may contact the instructor by email at any time during your registration period and receive a response within 24-48 hours.
Time Required: To complete this course, you can expect to spend 2 hours per module. You can work on each module at your own pace, at any hour of the day or night.
Who Should Take This Course: Anyone from the library community with an interest in best practices for providing health information services to the public.
Online Learning Details and System Requirements may be found at:
http://infopeople.org/learning_details.
Course Start: Classes start every Tuesday. You will receive your login information the morning before your session begins. If you do not receive an email with your login information, please contact Gini Ambrosino at [email protected]