You are here
Home

/

Leading from Any Position: Influencing Library Effectiveness and Responsiveness
Leading from Any Position: Influencing Library Effectiveness and Responsiveness
An Infopeople Webinar
Presenters: Becky Schreiber and John Shannon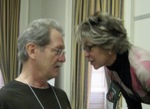 Are you a person who wants to make a difference in your library?
Do you have good ideas for improving internal library effectiveness and external community responsiveness?
Have you tried to influence the choices your library is making, only to find that you have limited ability to make a difference in the daily decisions that affect your work and its impact?
No matter what type of library you serve, in the current environment of tight budgets and limited resources, libraries are seeking ways to focus their energy on meeting critical user needs while maximizing the talents of every staff member to streamline internal processes.
This webinar will provide an overview of the Leading From Any Position (LFAP) workshop scheduled for January of 2011, once in northern California, and again in the south. This is an opportunity for you to review the objectives, content, sample activities and desired results of the LFAP workshop to determine your interest in attending.
The LFAP workshop will help those with a desire to participate in the creation of a library culture that encourages everyone to contribute their ideas. We will share knowledge, skills, and attitudes to improve the vitality of your library by enhancing your own leadership capacity. In the workshop, you will determine strategies for taking initiative, no matter what position you hold, using your personal power to create a collaborative climate that anticipates customer expectations and encourages staff to respond.
By the end of the webinar, participants will:
Understand the concept of "Leading from Any Position"
Understand what will be covered in the LFAP workshop (2-day, plus 1-day follow-up several months later)
Be able to explain how LFAP is different from the Eureka! Leadership Institute and other leadership offerings from Infopeople
Know if they are interested in attending LFAP
This one-hour webinar will be of interest to all library staff interesting in learning more about the Leading From Any Position workshops. It will be of particular interest to library directors and other library managers who make staff training decisions.
Webinars are free of charge and registration is only done on the day of the event on the WebEx server. No passwords are required.