You are here
Home

/

Privacy Literacy: Tips and Tricks for Customers and Staff
Privacy Literacy: Tips and Tricks for Customers and Staff
An Infopeople Short Format Course
Start:
January 26th, 2016 12:00 PM
End:
February 8th, 2016 4:30 PM
| | |
| --- | --- |
| Pricing | |
| California | $ 55.00 |
| Out-of-state | $ 110.00 |
Instructor: Rita Gavelis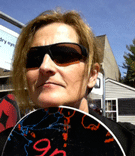 Would you like to be able to…

Assist library customers with protecting their own privacy online?
Develop a library privacy policy?
Utilize Virtual Private Networks and Virtual Machines at the library to aid in protecting personal information?
Understand the impact of the Patriot Act on libraries and their customers?
Create strong, yet memorable passwords for yourself and your library?

In the past, privacy revolved around protecting credit card information while shopping or preventing identity theft. Today the problem is much more complex and websites have evolved into powerful information platforms that collect, process, and share data on massive scales to numerous third parties. From vendors and advertisers who access our personal information to government agencies who harvest our text messages and emails, much can be discovered about us through our online browsing habits. Protecting privacy as our data passes through cyberspace is no easy task and personal information (our own and our customers) can be compromised accidentally or intentionally by something as simple as surfing the net at home or in public.

*Our short format courses are customized to the topic, designed to be started and completed in two weeks and offer practical knowledge and information that can be put to use immediately.
Course Description: Through a combination of two live online meetings, independent assignments, screencasts and online discussions, you'll learn how to encrypt emails, utilize browser tools to prevent 3rd party data harvesting, effectively configure privacy settings in social media and better assist library customers with protecting their own privacy online.
Online Meetings:
Meeting One: January 28, 2016/10:00 a.m. Pacific Time/11:00 a.m. Mountain Time/12:00 noon Central Time/1:00 p.m. Eastern Time
Meeting Two: February 5, 2016/10:00 a.m. Pacific Time/11:00 a.m. Mountain Time/12:00 noon Central Time/1:00 p.m. Eastern Time
Note: Please make every effort to ensure that you are able to attend these two meetings before enrolling in the course. If this is not possible, archived recordings will be made available.
Course Outline: When you log in to the Infopeople online learning site, you will see weekly modules with these topics:
Week 1: Privacy and Hardware

How to create strong, memorable passwords
The use of password managers to secure passwords
Methods for securing data on mobile devices
Tools for uncovering data leaks
How to encrypt data on computers

Week 2: Privacy and Online Services

How to develop a library privacy policy
Using Virtual Machines in the library
Browsers and privacy features
Two factor authentication
The Patriot Act and its impact on libraries
Time Required: To complete this course, you can expect to spend 2½ hours per week, for a total of five course hours. Each week's module contains an online meeting, readings, and various options for assignments and discussions. You can choose the options most relevant to your work and interests. Although you can work on each module at your own pace, at any hour of the day or night, it is recommended that you complete each week's work within that week to stay in sync with other learners.
Who Should Take This Course: Library staff at all levels who would like to know more about how to protect privacy on computers and mobile devices for themselves and for their customers in the library.
Online Learning Details and System Requirements may be found at: infopeople.org/training/online_learning_details.
Learner Requirements: Learners must have access to the internet.
After the official end date for the course, the instructor will be available for limited consultation and support for one more week, and the course material will stay up for an additional two weeks after that. These extra weeks give those who have fallen behind time to work independently to complete the course.
Keywords: Technology