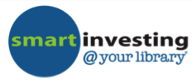 Financial Webinar Series for Librarians and Patrons
This is a two-part series of webinars about personal finance and investing resources and reference strategies. It was produced by the Santa Clara County Library District in collaboration with Infopeople.
The first series is designed for library staff who provide front line reference desk help and want to learn some strategies for helping patrons use financial databases. Library students interested in business librarianship would also benefit from these webinars.
The webinars of the second series cover a range of topics from the basics of financial planning to starting a small business as an employment option. These webinars would be of interest to both staff and patrons.The "Wise Use of Credit" webinar is available in Spanish and English.
Free online course for Reference Staff on Financial Literacy Reference Strategies and Resources: Click here

Smart Investing: Reference Strategies and Resources is an online staff development course produced by Santa Clara County Library District in collaboration with Infopeople. It is designed to improve reference strategies and knowledge of financial literacy concepts and resources so that staff can respond to questions on personal finance and investment more competently and with more confidence. Resources and concepts in a variety of financial areas are covered

The course is also a handy resource to use at the reference desk.

Business and Money Blog

Learn about new personal finance and business resources with Santa Clara County Library District's Business and 

Money Blog

.

FINRA Investor Education Foundation Resources

Check out all the programs and tools the 

FINRA

 Investor Education Foundation provides to promote the knowledge and skills needed for financial success throughout life.

How to start a financial education program in your library?

People need help understanding money. Your library can play an important role in providing effective, unbiased financial and investor information. The 

American Library Association

 welcomes you to use these ideas and resources to start a financial literacy program in your library.
The Santa Clara County Library District acknowledges and thanks the FINRA Investor Education Foundation for making these resources possible through a Smart Investing @ your library® grant in a partnership with the American Library Association.