Tuesday, December 17, 2013
Start Time: Pacific - 12 Noon
Presenters: : Carla Lehn [2] and Jennifer Bennett [3]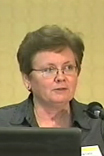 [4]
How long do volunteers usually stay with your program? Do you struggle with keeping them interested, involved and engaged? This webinar will help you think about new strategies and help you evolve your program to include new roles and responsibilities for volunteers, pathways for more involvement and leadership positions in your program, how recognition plays a role in retention, and the importance of including continuing education and professional development to keep your volunteers engaged. Tools to help you evaluate your program implement new ideas will be provided.
---
Presentation Material