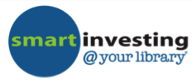 Series: Smart Investing @ the Library – Financial Literacy Resources (2nd of 2)
Presenters:
Katy Fitzgerald, Financial Aid Advisor, Mission College, Santa Clara County
Rich Mostert, Assistant Director, Central Valley Business Incubator/Small Business Development Center
Maria Rodriguez, Financial Specialist, ClearPoint Credit Counseling Solutions
Are you interested in planning a College Finance workshop for teens and their parents?
Do you want to support entrepreneurs in your community?
Would you like to provide basic financial planning resources for your community?
With the economy and investment news dominating the headlines for the past several years, the need for financial literacy resources has grown. To respond to this need, the Santa Clara County Library District collaborated with several community partners and Infopeople to produce a series of "Smart Investing @ the Library" webinars.
This installment of the two-part Smart Investing series will be of interest to public library staff and patrons. It covers a range of personal finance topics from the basics of financial planning to starting a small business as an employment option. The topic "Wise Use of Credit" is available in both English and Spanish.
Webinar 1 : My Money, My Spending Plan by Maria Rodriguez (30:23; Link to: Learn how to analyze your spending habits and develop a financial plan that enables you to save.
Webinar 2 : Wise Use of Credit by Maria Rodriguez (29:18; Link to: Understand what credit is and how you can get it to work for you.
Webinar 3 : Uso Inteligente de Credito by Maria Rodriguez (31:16) (Link to:
Webinar 4 : Finance Your College Education by Katy Fitzgerald (20:03) Learn about financial aid for ALL types of higher education institutions – Community College, Cal State University, University of California and Private Colleges.
Webinar 5 : Entrepreneurship as an Employment Option by Rich Mostert (31:07) Looking for a job? Have a hidden talent? Learn what you need to consider if you've been thinking about turning that talent or skill into your job.
These webinar recordings are free of charge. The Library District acknowledges the support of the FINRA Investor Education Foundation and the American Library Association which made this webinar series possible through a Smart Investing @ your library® grant.