Welcome!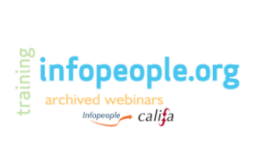 Infopeople has developed a new Niche Academy tutorial - it's a curated collection of archived webinars from the last two to three years organized by topic! You can also browse through a list of ALL of Infopeople's archived webinars, if you prefer. Enjoy!
And if you haven't had a chance to explore the planned training coming in 2020-2021, you can do that here.
Upcoming Events
Wed, Jun 24, 2020 from 12 noon - 1 p.m.