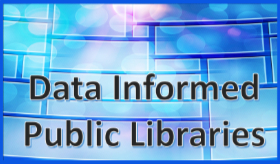 Data Informed Public Libraries (DIPL) is an initiative sponsored by the California State Library and implemented by Infopeople. This initiative builds upon the foundation of the April 2017 Research Institute for Public Libraries (RIPL) regional conference in Sacramento and the November 2017 Beyond the Numbers pre-conference at the California Library Association conference in Riverside. Through a variety of online courses, case studies, and webinars, participants will collaborate with others at their organization to discover and apply new practices, tools, and methods for data collection, analysis, and use.
Courses
Getting Started with Community Needs Assessments - Start date September 18, 2018 -- Registration now closed. Learners in this course collect and use data to assess needs in their communities.
Capturing Outcomes of Library Programming - Start date November 6, 2018 -- Registration now closed. Learners in this course explore a range of strategies for capturing program outcomes for all ages of library patrons. Learners acquire a framework for articulating program goals, capturing outcomes aligned with those goals, and using outcomes to advocate for programming in the library.
Telling the Library Story with Data - Start date January 29, 2019 -- Registration now closed. Learners in this course turn data into something meaningful, crafting stories about their organizations that are supported by data and anecdotes.
Using Infographics for Big Impact - Start date March 12, 2019 -- Registration now closed. Learners in this course create infographics to effectively present library data.
Asset-Based Community Development- Start date TBD.
Infopeople, with funding from the California State Library, is offering 30 free seats in each of these courses on a first-come, first-served basis for California library staff. Click course registration link to access the free seat application form.
Webinars
Case Studies
Case studies feature stories of libraries using data to make a difference in their communities.
Questions about DIPL? Please contact Brenda Hough at brenda (at) infopeople.org.
This project is supported in part by the U.S. Institute of Museum and Library Services under the provisions of the Library Services and Technology Act.