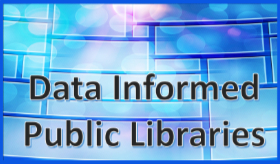 Data Informed Public Libraries (DIPL) is an initiative sponsored by the California State Library and implemented by Infopeople. This initiative builds upon the foundation of the April 2017 Research Institute for Public Libraries (RIPL) regional conference in Sacramento and the November 2017 Beyond the Numbers pre-conference at the California Library Association conference in Riverside. Through a variety of online courses, case studies, and webinars, participants will collaborate with others at their organization to discover and apply new practices, tools, and methods for data collection, analysis, and use.
Individuals from eleven libraries who were part of the data learning activities in 2017 (the RIPL event in Sacramento and/or the Riverside pre-conference) are now working with others from their libraries to extend learning throughout their organizations. Fresno County Public Library, Long Beach Public Library, Los Angeles Public Library, Oakland Public Library, San Francisco Public Library, San Jose Public Library, Santa Barbara Public Library, Santa Monica Public Library, Sonoma County Public Library, Torrance Public Library, and Yolo County Library are participating in the initiative. However, the online courses and other learning opportunities are also open to others working in California public libraries, too. Registration details and other information are promoted on the CALIX listserv.
Courses
Webinars
Demonstrating Library Impact with Data - This webinar was presented on June 12 at Noon Pacific/1 PM Mountain/2 PM Central/3 PM Eastern. The one-hour session featuring Amanda Standerfer was recorded and you can access it now.
Be a Data Champion in Your Library - This was presented on July 24 at Noon Pacific/1 PM Mountain/2 PM Central/3 PM Eastern. This one-hour session featuring Amy Koester and Toby Greenwalt was recorded and you can access it now.
Case Studies
Case studies feature stories of libraries using data to make a difference in their communities.
Questions about DIPL? Please contact Brenda Hough at brenda (at) infopeople.org.
This project is supported in part by the U.S. Institute of Museum and Library Services under the provisions of the Library Services and Technology Act.