Wednesday, June 6, 2012
Start Time: Pacific - 12 Noon
Presenters: : Carla Lehn, Jennifer Bennett, and Stephen Ristau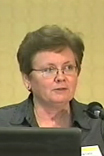 It can be challenging to engage corporate volunteers. Too often volunteer managers want to say yes, but struggle to find meaningful, interesting work for these volunteers to do. This workshop will present evaluation points to help volunteer managers determine if their program is ready to engage, or expand the use of corporate volunteers. Effective practices for engagement, ideas for diversifying the work and commitment level of corporate volunteer, the importance of creating opportunities with measurable impacts, and communicating those impacts will be discussed. Presenters will lead a discussion around the challenges and successes attendees have had engaging corporate volunteers.
---
Presentation Material