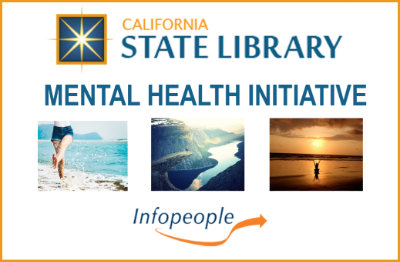 Infopeople partnered with the California State Library to provide a variety of training opportunities as part of its Mental Health Initiative in 2018.
Online course:
Mental Health Challenges: An Introduction for Library Staff - This two-part online course provided readings, videos, and practical examples to help understand mental health challenges in order to improve library services and interactions.
Once the course was completed, a short self-paced tutorial was developed with the content which can be found in the Infopeople Academy.
Participants were given seats in the following Infopeople Courses:
Library Services for those Experiencing Homelessness
Maintaining a Safe and Respectful Library
Workplace Burnout
Customer Service
Cultural Intelligence
Preparing and Implementing EDI Training in Your Library
Webinars:
As part of the California State Library's Mental Health Initiative, Infopeople also produced a series of 10 webinars. You can also find the archived recordings in this Vimeo album.
---
This project was supported in whole or in part by the U.S. Institute of Museum and Library Services under the provisions of the Library Services and Technology Act, administered in California by the State Librarian.