You are here
Home

/

The Next Gen Presenter: Using New Technology for Dynamic Presentations
The Next Gen Presenter: Using New Technology for Dynamic Presentations
An Infopeople Online Learning Course
Start:
November 12th, 2013 12:00 PM
End:
December 16th, 2013 4:30 PM
Instructor: Rita Gavelis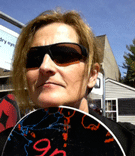 Are you tired of long boring presentation slides with repetitive information?
Would you like to make your presentations more engaging, interesting and effective?
Do you know how to identify the appropriate tool for each presentation?
Are you interested in learning more about new presentation software and apps such as Prezi?
Would you like to know more about new approaches to presentation such as Pecha-Kucha and Presentation Zen?

In this workshop, we will explore options for presentations beyond Powerpoint, including free software, slideshow apps for tablets and smartphones, as well as web-based services that will help make your presentations effective and dynamic.
Course Description: This four-week online course will give you the opportunity to learn more about new technology and approaches for your presentations. Through readings, assignments, and discussions you will have the chance to experience, compare, and contrast a variety of presentation software, slideshow apps and approaches that will help you determine the best tools for your next presentation. You will have the chance to enhance a presentation of your choice using what you learn throughout the course. The instructor will provide resources, including a chart of presentation tools, along with best practices, and useful tips and techniques that can be applied immediately.
Course Outline: When you log in to the Infopeople online learning site, you will see weekly modules with these topics:
Week 1: Telling the Story

Determine the best components
Grab viewer attention
Communicate effectively through slides and storyboards
Tools for managing and organizing

Week 2: Finding the Right Tool

Powerpoint alternatives
Share files
Pros and cons of software and apps
Determine the best platform for each situation

Week 3: Adding Some Spice

Video and animation
Best practices for using video
Find images and graphics

Week 4: Presentations and Zen

Choose the best approach
Create nimble presentations
Pre-course Assignment: Learners will need to think of a presentation topic prior to the launch of the course. This can be anything from an instructional presentation on how to use a database or tool, a promotion or overview of a library concept, service, or policy, or a short history of their library.
Time Required: To complete this course, you can expect to spend 2½ hours per week, for a total of ten course hours. Each week's module contains readings and various options for assignments, discussions, or online meetings. You can choose the options most relevant to your work and interests. Although you can work on each module at your own pace, at any hour of the day or night, it is recommended that you complete each week's work within that week to stay in sync with other learners.
Who Should Take This Course: Library staff familiar with the basics of creating slideshows who wish to update their skills and expand their presentations to newer applications and available technologies. This course is appropriate for anyone who has a need to create presentations that are more dynamic and effective.
Online Learning Details: may be found at: infopeople.org/training/online_learning_details.
Learner Requirements: For maximum benefit of this course, learners should be familiar with Microsoft Powerpoint or similar presentation software. Participants should also have access to or the capability of downloading at least 1 piece of software for creating presentations such as Powerpoint, Prezi, Keynote, Camtasia, iMovie, Movie Maker, or similar applications. Though each week has an assignment option that does not require the creation of a presentation, the hands-on element of this course is especially beneficial.
Course Start: This four-week online learning course starts on Tuesday, November 12, 2013. Please note that due to the Thanksgiving holiday we have provided an additional week of access to enable learners to complete course materials.
After the official end date for the course, the instructor will be available for limited consultation and support for two more weeks, and the course material will stay up for an additional two weeks after that. These extra weeks give those who have fallen behind time to work independently to complete the course.