You are here
Home

/

Using Facebook to Recruit Volunteers
Using Facebook to Recruit Volunteers
Start:
February 18th, 2014 12:00 PM
Start Time: Pacific - 12 Noon, Mountain - 1 PM, Central - 2 PM, Eastern - 3 PM
Presenter: John Haydon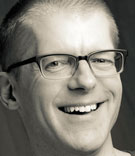 Your Library's Facebook goals include getting current patrons informed, and hoping they tell their friends so you can increase the community's understanding of and engagement with the library – including engaging them as library volunteers.
This one-hour webinar will help you build a loyal fanbase with useful content, community management, and channel integration. You'll learn from specific examples as well as a live demonstration of how to create and publish content effectively.
During this webinar, you will get answers to these questions:
How does the News Feed enable non-fans to see my Page content?
How does the newsfeed algorithm rank my content?
How many times per day should I post to my Page?
How can I optimize links for more traffic to my website?
How can I optimize photos for the most engagement?
How can I use text updates to wake up my fanbase?
How can I use other channels to boost engagement on my Page?
What tools are critical for success on Facebook?
How can I determine what content my Facebook fans like the most?
This webinar will be of interest to library staff looking for a ways to use Facebook to recruit and connect with their volunteers and gain tips on building a loyal Facebook fan base.
Webinars are free of charge, you can pre-register by clicking on the Register Now button (at the top and bottom of this page). If registering with less than 30 MINUTES from the start of the webinar you can join directly from the thank you page by clicking the Join Now button. If you pre-registered you will receive an email with login link and a reminder email the day before the event.
---
Keywords: Facebook, Volunteer