You are here
Home

/

Simply Irresistible: Storytimes for 2 and Under
Simply Irresistible: Storytimes for 2 and Under
An Infopeople Online Learning Course
Start:
May 13th, 2014 12:00 PM
End:
June 9th, 2014 4:30 PM
Course Instructor: Colleen Willis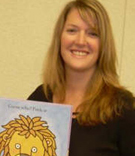 Do you want to establish your library as a leader in early literacy? Build strong relationships with parents and caregivers of young children? And best of all, do you want to work with a storytime audience that is "simply irresistible"?

When their children are babies and toddlers, parents are often eager to introduce language in lively and entertaining ways. They are motivated to learn about child development and early literacy skills. You can meet their needs in storytimes targeted to these young children, using picture books, board books, songs, lullabies, nursery rhymes, fingerplays, and other activities.

Join experienced children's librarian and expert storytime presenter Colleen Willis to learn how to: :

Prepare and deliver a literacy-based storytime
Use "parent patter" during the program
Identify and equip an appropriate space
Select age-appropriate resources and activities

Be prepared to have fun! Get out those headphones and bounce in your seat as you listen to music, watch video samples, and practice fingerplays. It's a relaxed and easy way to gain confidence in working with this "keep you on your toes" age group of 2 and under.
Course Description: In this four-week online course, you will learn how to develop an age-appropriate, literacy-rich storytime program for babies and toddlers, as well as to enhance the focus on early literacy skills in your current storytimes. You will complete a series of assignments and participate in discussion forums, sharing storytime components and ideas. By the end of the course, you will have a wealth of child development and literacy facts, music suggestions, fingerplays, booklists, equipment suggestions, and recommended websites with ideas that will help stimulate language and baby brain development.
Course Outline: When you log in to the Infopeople online learning site, you will see weekly modules with these topics:
Week 1: Child Development and Early Literacy Skills

Brain Development
Early Literacy Skills
Developmental Milestones
Parental Benefits

Week 2: Program Format

Sample Storytime
Start-up Costs
Room Set-up
Timing
Registration
Stay and Play Activity
Parent Patter
Handouts

Week 3: Let's Have Some Fun

Nursery Rhymes
Fingerplays
Puppets
Music and Props

Week 4: Make Reading A Game

Book Selection
Dialogic Reading
Storytime Kits
Partnership Possibilities
Video: Babydoll Storytime
Time Required: To complete this course, you can expect to spend 2½ hours per week, for a total of ten course hours. Each week's module contains readings and various options for assignments, discussions, or online meetings. You can choose the options most relevant to your work and interests. Although you can work on each module at your own pace, at any hour of the day or night, it is recommended that you complete each week's work within that week to stay in sync with other learners.
Who Should Take This Course: Children's services staff and others involved in the development and implementation of storytimes for preschoolers and younger.
Online Learning Details and System Requirements may be found at: infopeople.org/training/online_learning_details.
Course Start: This online learning course starts on Tuesday, May 13, 2014.
After the official end date for the course, the instructor will be available for limited consultation and support for two more weeks, and the course material will stay up for an additional two weeks after that. These extra weeks give those who have fallen behind time to work independently to complete the course.
Keywords: Children's services