You are here
Home

/

Beyond Books: Advanced Readers' Advisory
Beyond Books: Advanced Readers' Advisory
An Infopeople Online Learning Course (LSSC approved)
Course Instructor: Francisca Goldsmith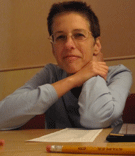 Traditional readers' advisory work is currently in need of a good boost to bring library users the value they expect from library resources. If your library wants to stake a claim as a 21st century advisory portal, then now is the time to stretch your advisory services beyond books and the library walls. To meet the challenges of advising across multiple publishing platforms, multimedia, and language preferences, your library needs to provide professional and flexible services under the umbrella of "readers' advisory work." E-publishing, video, musical genres, diverse languages, and social media will likely continue to diversify and gain popularity as entertainment and educational options for adults in your community. Plan now for a readers' advisory service that acknowledges, addresses, and builds productively on these new frontiers.

In this advanced course, both library staff who deliver advisory help and those who plan or administer advisory services will build on and beyond readers' advisory fundamentals.

Are you ready to:

Take your library's readers' advisory services to the cutting edge?
Include adults who are seeking suggestions not only for what to read next but also for listening or viewing experiences?
Assist library users in evaluating formats – e-books, graphic novels, films, music genres - and methods that will best suit their search for narrative in a format that is comfortable and piques their interests?
Encourage and support peer-to-peer advisory in your community by making the library the hub of your community's reader's advisory resources?

State of the art advisory service doesn't necessarily need more staff or a larger materials budget. Instead, it requires the smart use of free tools and staff who are trained and motivated to facilitate access to multi-format advisory expertise.
Course Description: This four-week online course will explore advisory work with materials in all formats your library might collect: music, e-books, comics, audiobooks, and film, as well as traditional books. Through readings, assignments and online discussion forums, you will learn to identify methods for developing and supporting peer-to-peer advisory relationships locally and online, through agency collaboration, social media, and staff development. You will also receive valuable instruction on how to review priorities in your materials budget in order to balance them against community expectations in the area of facilitated advisory services. Finally, we will explore tips and information on how to create assessment and evaluation tools to help align your advisory service to community needs and wants. The instructor will provide resources, best practices, and useful tips and techniques that can be applied immediately. This course is one of two required for LSSC certification in the Adult Readers' Advisory competency set.
During the course, you will be completing assignments and participating in online discussion forums. You will also participate in at least one online meeting as part of the online learning process. NOTE: In order to succeed in this course, you will need to already have a firm grasp of readers' advisory fundamentals, either as a practitioner or as a supervisor of your library's advisory service.
Course Outline: When you log in to the Infopeople online learning site, you will see weekly modules with these topics:
Week 1: Beyond Reading Suggestions: Library Advisory Work in 2012

Best practices in the 21st century, from format diversity to ADA compliance
Interviewing techniques with listeners and viewers
Content and delivery systems of leisure reading, viewing, and listening
New methods for providing book talks and other reading promotions
Increasing advisors' access to free tools through social media

Week 2: Beyond the Library Building: Experts in the Community and Online

Developing web-based tailored recommendations for individual community members
Working with community experts
Expanding advisory resources to include social networks
Relevance of library-sited blogs, Twitter feeds, Facebook pages, and other social media to advisory service development
Using Twitter and Google+ in your capacity as advisor

Week 3: Collaboration, Prioritization, and Community Support

Collaboration vs. partnership
Identifying the library's role in advising community members about media types
Matching collection budgets to adult reading and media preference priorities
Locating review and collection development resources for multimedia (by type)
Determining when to select popular materials without traditional vetting
Evaluating resources beyond those in your library
Seeking ongoing input from community experts

Week 4: Building Staff and Community as Peer Advisors

Forming leisure opportunities for staff advisory development
Identifying advisory leaders
Writing and launching a formal training plan
Developing an advisory service evaluation tool that includes staff and community data collection
Ensuring community members with print disabilities or alternative language needs are well served
Assessing future advisory development needs
Time Required: To complete this course, you can expect to spend two and half hours per week, for a total of ten hours. Each week's work includes course readings and various assignment options, discussions, interviews, and online meetings. You can choose the options most relevant to your library role and interests. You will be asked to share weekly, via Twitter, online advisory portals and other tools you discover online. Twitter activity will be counted during the course as a required assignment for those seeking a certificate of completion.
Who Should Take This Course: Anyone from the library community with an interest in expanding advisory services for adults beyond the traditional fundamentals, including staff and administrators who deliver advisory services, plan such services or have an interest in moving toward a fully realized advisory service for adults in the community.
| | |
| --- | --- |
| Library Support Staff Certification (LSSC): This course, in combination with Infopeople's Readers' Advisory Fundamentals course (offered annually), is approved as covering the Adult Readers' Advisory competencies for the LSSC program. Both courses must be taken to meet the competency set. | |
Important Note: Throughout this course, learners will be required to use Twitter and Google+ and may be asked to explore other social media, such as Goodreads. Those who enroll in the course will need to acquire a Twitter account (instructions will be provided in Week 1). Before registering for the course you should first ensure that you have access to using Twitter, either on a computer or smartphone, on the equipment you intend to use to participate in the course. Be sure to check with your administration, before registering, if permission to use social media at work is needed.
Online Learning Details and System Requirements may be found at: infopeople.org/training/online_learning_details.
Course Start: This online learning course starts on Tuesday October 15, 2013.
After the official end date for the course, the instructor will be available for limited consultation and support for two more weeks, and the course material will stay up for an additional two weeks after that. These extra weeks give those who have fallen behind time to work independently to complete the course.