You are here
Home

/

Affordable Care Act @ Your California Public Library
Affordable Care Act @ Your California Public Library
An Infopeople Independent Online Learning Series
Self-paced course starts every Tuesday
Course Instructor: Francisca Goldsmith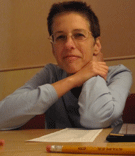 The initial enrollment period for Californians seeking affordable healthcare through the state's health insurance exchange, Covered California, is now closed. However, public libraries have a big role to play in the next big objective of Covered California - bridging the information gaps between healthcare insurance availability and healthcare understanding and use. Public libraries are one of the most accessible resources for people who need information about the federal Affordable Care Act and the many new healthcare rights available to them.

Infopeople has updated and revised this free, open enrollment series of six modules designed to help you answer:

What are the nuts and bolts of the Affordable Care Act and what are the strategic goals developed by California healthcare policy makers and practitioners for 2014?
How can my library best assist our community in finding and understanding their new healthcare options?
Where can library staff find, and maintain, community collaborative opportunities to improve lifelong health and wellness learning and healthcare outcomes for community members?
How can improvement of health and wellness library services also build skills in other community valued areas?
Why should I seek collaboration opportunities with clinics, hospitals, county social services and other local resources?
Will my library be able to create and provide educational programming around the Affordable Care Act that is meaningful and essential to my community?

This revised series offers information and resources for immediate use in your work, targeting the healthcare awareness and delivery strategies state policy makers and health practitioners have identified as essential to continue to improve access to healthcare in 2014. Frequent checkpoints in the information remind you to take specific actions at the local level.
Series Description: This revised six-module independent online learning series provides a structured introduction to the post-initial enrollment period objectives of the Affordable Care Act legislation that will impact your library through the next year to 18 months. The independent learning format means there are no class discussions or assignments to complete. Instead, you can use the material to inform your library's strategic health and wellness and adult literacy efforts related to healthcare for the post-enrollment period, and to create programming that is effective in your community. It will take between 12 and 15 hours for you to work through all six modules, depending on your current knowledge of the Affordable Care Act and your community awareness. The facilitator provides resources, best practices, and useful tips and techniques that can be applied locally, as well as those that can be used to train others.
There are no expectations of participation with other learners within the context of this series. The instructor is available by email and will respond to questions and concerns within 48 hours (and usually sooner).
Online Series Outline: Using an Internet connection and web browser, you will log in to the Infopeople online learning site to access the following learning modules:
Module 1: Overview and Context of the Affordable Care Act

Legislation facts and texts
Recognizing local needs
Planning to keep up

Module 2: Covered California and Healthcare Consumers

Covered California's mandate beyond insurance marketplace
Insurance coverage structure
Covered California's Small Business Health Options Program (SHOP)
Medi-Cal and Covered California
Addressing California's diversity

Module 3: Affordable Care: What's Up Next?

2014 objectives, strategies and tactics for increasing healthcare access
State health strategies and library tactics to achieve them
Know your community

Module 4: The Library as a Healthcare Information Place

Ethics: codes of appropriate behavior
Healthcare related reference interviewing
Tools and rules for the information provider
Accessibility
Local resources and information needs

Module 5: Community Education: Health Literacy and Health Insurance Literacy

Many literacies
Demystifying health insurance
Recognizing literacy issues
Motivated skill acquisition
Beyond reference and IT staff matters
Health literacy awareness

Module 6: Accessible Information and Program Planning

Defining your library's role
Recognizing staff training needs and addressing them
Partners, collaborators and your community
Documenting your library's value as an advocacy tool
Time Required: To complete this series, you can expect to spend two to three hours per module, for a total of 12 to 15 hours. Each module contains readings, media and local checkpoints, as well as a supplemental materials file for more in-depth learning and to use in local staff trainings.
Who Should Take This Course: This independent learning series addresses the needs of reference staff, library managers, and literacy staff, and can be of interest to governing boards.
Online Learning Details and System Requirements may be found at: infopeople.org/training/online_learning_details.
Infopeople is providing this series free of charge. You can register to enroll beginning any Tuesday and will have two months from your registration date to complete your use of the material. No certificate of completion is awarded for this series.
Series Start: This newly revised and updated independent learning series is available for enrollment at any time. You will be notified of your enrollment on the Tuesday after you register for the series and will continue to have two months' access to it from that date.