You are here
Home

/

The Healing Library: Lending Healing Experiences to Families
The Healing Library: Lending Healing Experiences to Families
An Infopeople Webinar
Start:
December 5th, 2017 12:00 PM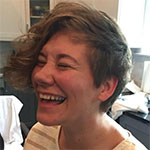 Presenter: Megan Emery
More than ever people are turning to libraries during times of crisis. As library workers, how can we ensure we care for our communities while supporting (and not replacing) our local wellness professionals?
The Healing Library is a project that has been developed by librarians, a children's literature advocate, and a holistic art and play therapist to assist families with healing in a healthy way while teaching parents the skills of looking critically at picture books and utilizing them to communicate with children. Currently three free lendable kits have been developed, including: The Death of a Loved One, The Death of a Pet, and When a Loved One Develops Alzheimer's.
In this webinar, presenter Megan Emery will discuss the topics and contents of the three kits, and how libraries can download them for free to begin assisting their communities with healthy journeys of healing.
At the end of this one-hour webinar, participants will:
Understand what The Healing Library can and cannot do for their communities
Have knowledge of the three kit topics and the contents of the kits
Understand how to download the kit contents for free and begin assembling the kit that is right for their community
This webinar will be of interest to: Library staff, especially those working with children and families, who are interested in helping their communities deal with traumatic events.
Webinars are free of charge, you can pre-register by clicking on the Register Now button at the top of this page. If you pre-registered you will receive an email with login link and a reminder email the day before the event.
---
Presentation Material
---
Speaker's slides