Building an Effective Learning Culture: Getting Started - A FREE one hour introductory tutorial on the Infopeople Academy
Program outline:
Define what it means to have a learning culture.
Understand the challenges facing the development of a learning culture.
Identify key steps in the process for developing a learning culture.
Identify additional resources on the topic of learning culture.
Building an Effective Learning Culture Academy: Full Course - 5 self-paced modules



Instructors: Crystal Schimpf, Brenda Hough and Stephanie Gerding
BELC Academy fees:
Library staff size of 1-10: $100
Library staff size of 11-30: $200
Library staff size of 31-50: $300
For libraries with staff size of over 50 please contact

[email protected]

for pricing
Price includes access to all materials for 12 months.
Use this form to enroll in the Infopeople BELC Academy.
Program outline:
Module 1: Assess Your Library's Learning Culture

Assess organizational learning culture and identify gaps in the organization's current learning strategies.
Articulate the importance of a learning organization to staff and the community.
Create a vision for a learning culture in your organization.

Module 2: Planning for Your Library's Learning

Create a plan for support from leadership for organizational learning, which includes how to roll out of learning culture initiatives and strategies to increase staff buy-in across all levels.
Identify competencies that can be used to direct and prioritize staff learning.
Overcome barriers to workplace learning such as time and motivation.

Module 3: Designing Your Library's Learning

Create an individual learning plan.
Design learning systems and programs to foster staff development.
Drive strategic change by developing learning resources and activities that create opportunities for individual learning, peer sharing and collaboration, and reflection.
Create and/or contribute to a safe environment for risk taking and experimentation while learning.

Module 4: Fostering Learning within Your Library

Incorporate learning into their daily routine.
Foster learning agility by building the capacity for rapid, continuous learning across many experiences.
Utilize design thinking to bring innovative approaches to staff learning.
Evaluate the outcomes of training programs for library staff.

Module 5: Transferring Learning to Library Work

Share learning and knowledge in a meaningful way to others in their organization.
Support the transfer of learning and knowledge into personal and professional changes in attitudes, behaviors, and beliefs.
Identify ways to incorporate new knowledge and skills into their work in a meaningful way.
Identify additional resources on the topic of learning culture.
More about BELC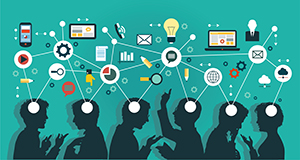 Building an effective learning culture is a process that can lead your library to be more successful in meeting strategic goals and providing services to the community. In learning organizations, library staff will actively seek out learning in both formal and informal settings, and will more readily apply new skills and knowledge to their work. The result is a library that is able to respond more quickly to change, and is more effective at achieving its strategic goals.
Infopeople developed a training initiative to help libraries build an effective learning culture within their organizations. This initiative was piloted by 12 library teams in 2017 who worked together to develop systems, plans, and training programs to develop their library's organizational learning capacity. The content from that initiative is now available online through Infopeople in partnership with Niche Academy. The self-paced content includes videos, podcasts, short readings, and interactive games. Participants are also encouraged to complete activities and reflections on their own, and to work with other staff at their library to develop their own plans for building an effective learning culture. This combination of online, self-paced content and experiential learning will help library staff immediately begin to apply these concepts.
Who should participate? This initiative is directed at library staff who are responsible for coordinating or designing staff learning within their organization or department. It is also recommended for library administrators, managers, and supervisors. The intent is that libraries will work through the content in teams. 
How does it work? This initiative is self-paced, and can be started any time. Enrolling in the full BELC Academy will give each library 12 months access to the content.
What does the initiative include? There is one free introductory module, open to anyone. There is also a full academy including five modules, which has a registration fee. Each module takes approximately 3-5 hours to complete. We recommend taking 5-6 months to complete the full academy, taking one module per month.