You are here
Home

/

How to Market Your Library: A Toolkit of Proven Techniques
How to Market Your Library: A Toolkit of Proven Techniques
An Infopeople Online Learning Course
Start:
May 15th, 2018 12:00 PM
End:
June 11th, 2018 4:30 PM
| | |
| --- | --- |
| Pricing | |
| California | $150.00 |
| Out-of-state | $200.00 |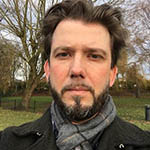 Instructor: Ned Potter
Marketing libraries has never been more important, but how do we do it well? This course will cover all aspects of marketing libraries and library services, including marketing strategically, using social media, and framing communication in campaigns. Learners will be provided with a toolkit of proven ideas, concepts, and techniques, which can be applied to their library communication right away. By the end of the course learners will be able to:

Plan and run a marketing campaign for their library
Understand different communication styles and where their own library fits into these
Find useable, high quality images, fonts, videos and other marketing materials that don't cost any money and don't break any copyright laws
Gain a better understanding of their library's users via User Experience techniques
Understand social media tools and how they work with traditional marketing outputs
Explore camera-free options for producing library marketing videos

Join instructor Ned Potter, author and library marketer, as he focuses in on the things that really matter to make promotions effective, and on making marketing not just fun but something it's possible to do well and efficiently.
Course Description: During the course, learners will participate in discussion forums, be invited to reflect on their own institution and its communication, and complete hands-on assignments which will provide them with solid next steps to take in their marketing. They will be provided with a marketing template, and over the four-week online course will develop the knowledge and understanding to fill it out, so that by the end of the course they will be in a position to launch a successful marketing campaign for your service.
Learners will be able to ask questions, share experiences, learn from peers, and take back resources and ideas to their own library.
Course Outline: When you log in to the Infopeople online learning site, you will see weekly modules with these topics:
Week 1: Marketing, branding and strategy

Introduction to marketing
Brand, branding and what really matters to your users
Communication styles – including line of sight marketing
Marketing strategically: what this means and why it's worth doing

Week 2: The CAPE Marketing Campaign Framework

The CAPE Campaign framework: Context, Aims, Promotion, and Evaluation
Understanding library users: feedback, UX and ethnography
Segmentation: dividing your audience into smaller but manageable groups
The power of WOMM: Word of Mouth Marketing

Week 3: Delivering Key Messages

Simplifying and tailoring key messages
Useful digital tools, freely available online
Social Media strategy and management
Building your network on Twitter and Instagram

Week 4:

Marketing with video
Evaluating your marketing, measuring impact
Completing the CAPE document
Pulling it all together
Time Required: To complete this course, you can expect to spend 2 1/2 hours per week, for a total of ten course hours. Each week's module contains readings and various options for assignments, discussions, or online meetings. You can choose the options most relevant to your work and interests. Although you can work on each module at your own pace, at any hour of the day or night, it is recommended that you complete each week's work within that week to stay in sync with other learners.
Who Should Take This Course: This course is aimed at anyone who wants to market and promote their library service (or indeed their entire library).
Online Learning Details and System Requirements may be found at: infopeople.org/training/online_learning_details.
Learner Requirements: You don't need any specialist equipment to take this course. We will try out software as part of this but always using free, online options.
After the official end date for the course, the instructor will be available for limited consultation and support for two more weeks, and the course material will stay up for an additional two weeks after that. These extra weeks give those who have fallen behind time to work independently to complete the course.
Keywords: marketing