You are here
Home

/

Street Lit and Libraries
Street Lit and Libraries
An Infopeople Webinar
Start:
February 12th, 2014 12:00 PM
Start Time: Pacific - 12 Noon, Mountain - 1 PM, Central - 2 PM, Eastern - 3 PM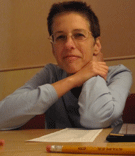 Presenter: Francisca Goldsmith
For the last 15 years, public and high school libraries have been exploring the under-reviewed and small press produced genre of street lit. It is most often passed hand to hand or through publishing parties held by the authors, and often appeals to readers with interests outside the majority culture. With increasing amounts of professional discussions now available on the strengths and challenges street lit collections can offer your library's users, it's time to look at the appeal that holds for readers.
Street lit is not without its controversies. Learning why and how some libraries have decided to include it in their collections will help your library decide whether it's feasible and appropriate for your community. Knowing how your community may react to its inclusion in your library will increase your value as the community's readers' advisor and/or fiction collection developer.
At the end of this one-hour webinar, participants will:
Be able to identify the current hallmarks of street lit as a genre.
Recognize the dynamic nature of reader context as individuals make reading choices, and the role mainstream publishing plays in reading options.
Be familiar with street lit's potential controversies that may arise locally and know how to discuss them with readers and potential readers.
Be able to locate critical and collection resources pertaining to the inclusion of street lit in the library's collection.
Be able to connect street lit titles in the collection to works in other genres and formats.
This webinar will be of interest to collection development and readers' advisory staff in public and high school libraries.
Webinars are free of charge, you can pre-register by clicking on the Register Now button (at the top and bottom of this page). If registering with less than 30 MINUTES from the start of the webinar you can join directly from the thank you page by clicking the Join Now button. If you pre-registered you will receive an email with login link and a reminder email the day before the event.
Presentation Material
---
Keywords: Collection development, Reader's advisory