You are here
Home

/

Creative Spaces and Family Engagement in Libraries
Creative Spaces and Family Engagement in Libraries
Start:
June 12th, 2014 12:00 PM
Presented by
The California State Library
Early Learning with Families 2.0
Start Time: Pacific - 12 Noon, Mountain - 1 PM, Central - 2 PM, Eastern - 3 PM
Webinar Presenter: Bridget Alexander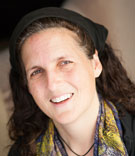 Struggling to infuse creativity into a cramped, quiet or quirky space?
Tired of following powerful literature with cookie cutter crafts?
Confounded by events attended by children 2 to 18 years old?
Think you have to be an artist to engage children in the arts?
As an institution, the library has the power to teach families the joy and meaning derived from the creative process. Yet, too often, after a powerful story, we shut down the opportunity for authentic, individual responses by asking children to mass produce popsicle stick protagonists or glue soaked story props.
Library staff and parents often feel inadequate as artists and pass along their hang ups by safety proofing crafts or spending loads of money for professional artists to lead the workshop. In this webinar, we will rethink what it means to engage children and their families in creativity as we explore play based and process art. You will leave with very concrete ideas about designing a space and an approach that nurtures the artist in each child. As the sole access point to the arts for many families, libraries are a key force in ensuring every child can engage with the world as a creator.
At the end of this one-hour webinar, participants will:
Have a new way of viewing the arts that empowers them to design effective arts programs for children and families
Gain specific ideas for designing spaces for families to engage in the arts
Explore 5 stories and affordable and exciting arts experiences to accompany them
This webinar will be of interest to library staff working to engage families and enliven storytimes and programming for families.
Webinars are free of charge, you can pre-register by clicking on the Register Now button (at the top and bottom of this page). If registering with less than 30 MINUTES from the start of the webinar you can join directly from the thank you page by clicking the Join Now button. If you pre-registered you will receive an email with login link and a reminder email the day before the event.
Infopeople webinars can be viewed on iOS devices. Adobe® Connect™ Mobile for iOS
Webinar archive of this event will be available within 24 hours or sooner
Presentation Material
---
Speaker's slides

Keywords: Children's services, K-12 services