You are here
Home

/

Aspen Institute's Rising to the Challenge: Re-envisioning Public Libraries
Aspen Institute's Rising to the Challenge: Re-envisioning Public Libraries
An Infopeople Webinar
Start:
January 26th, 2016 7:00 PM
Start Time: Pacific - 12 Noon, Mountain - 1 PM, Central - 2 PM, Eastern - 3 PM
Presenters: Susan Hildreth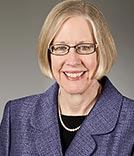 ​​
In October 2014 the Aspen Institute released its report, Rising to the Challenge: Re-Envisioning Public Libraries. With support from the Bill &Melinda Gates Foundation, the multi-year project brought together thought leaders and experts from different sectors, including libraries, to consider the challenges, opportunities and trends that will influence the future of public libraries in the United States. Since then the Aspen Institute has embarked upon an ambitious program to ensure that the report will be used to promote transformation and sustainability of public libraries in communities across the country and at state and national levels.
If you've heard about the Aspen report and would like to know how you could utilize it in your library or community, this webinar is for you. Join Susan Hildreth, Aspen Fellow, to learn about the highlights of the reports and resources available to support your use of the report with a variety of stakeholders.
By the end of this one-hour webinar, participants will:
Be familiar with the three key elements of the report – People, Place and Platform
Learn strategies for success and action steps for library staff, policy makers and community members
Be familiar with the Action Guide, an online resource to provide tools to use the report as framework for many activities (final version of Action Guide being introduced at ALA Mid-Winter)
Be able to identify contacts for further information and utilization of the report
This webinar will be of interest to:
Public Library Administrators and staff, Library Supporters and Volunteers
Webinars are free of charge, you can pre-register by clicking on the Register Now button (at the top and bottom of this page). If registering with less than 30 MINUTES from the start of the webinar you can join directly from the thank you page by clicking the Join Now button. If you pre-registered you will receive an email with login link and a reminder email the day before the event.
Infopeople webinars can be viewed on iOS devices. Adobe® Connect™ Mobile for iOS
Webinar archive of this event will be available within 24 hours or sooner
---
Presentation Material
---
Keywords: Supervision and management, Outreach, Partnerships, Leadership