You are here
Home

/

STEAM in the Library: Engaging Children in Learning
STEAM in the Library: Engaging Children in Learning
An Infopeople Online Learning Course
Start:
April 10th, 2018 12:00 PM
End:
May 7th, 2018 4:30 PM
| | |
| --- | --- |
| Pricing | |
| California | $150.00 |
| Out-of-state | $200.00 |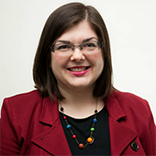 Course Instructor: Amy Koester
Have you heard your library colleagues talking about STEAM (Science, Technology, Engineering, Arts and Math) and wondered what it's all about?
Do you wonder what the difference is between STEM and STEAM?
Would you like to know what STEAM for youth looks like in a library setting, and how you can create and offer an engaging STEAM experience to all your young customers?

STEAM programs and services are a natural extension of the storytimes and school-age events that libraries have been offering for decades, with the added bonus of engaging children in new interests. In fact, many of the programs and resources you already offer at your library can be adapted to become STEAM activities!

This course will prepare youth services staff to:

Understand what STEAM means for children (preschool-grade 6) of all backgrounds in a library setting, as well as how STEAM fits within library goals.
Address the frequent concern of new STEAM practitioners that we're not "experts" in STEAM content areas
Look to existing library programs and resources as a fertile starting place for STEAM activities.

STEAM has become something of a buzzword in libraries as of late, but that doesn't mean it's just a passing trend. STEM (Science, Technology, Engineering and Math) proficiency among youth has been an educational goal in schools since the mid-'80s, when a series of reports indicated that many American children weren't meeting competencies in these areas. The addition of "Arts" to STEM in the last few years to create "STEAM", is indicative of a commitment to infusing creative, open-ended thinking and innovative problem-solving into STEM activities.
Course Description: During this four-week online course, learners will become familiar with STEAM, its relevance to library youth services (preschool – grade 6), and a range of programs and services meant to increase exposure to STEAM content areas. Learners will interact with the instructor and one another through weekly discussion forums, and share sample program plans and other resources with the group to facilitate an understanding of the diverse possibilities for STEAM programs and services. Learners will leave the course with knowledge about STEAM and its library applications as well as experience putting together STEAM programs and services for their library users.
Course Outline: When you log in to the Infopeople online learning site, you will see weekly modules with these topics:
Week 1: What is STEAM, and how does it fit within youth services in a public library?

Definition of STEAM
Why STEAM and not just STEM
Why STEAM is important
STEAM and underrepresented populations
How STEAM fits with the youth services mission
You don't need to be a content area expert to STEAM
The STEAM potential in existing programs and services

Week 2: Preschool STEAM Programming

Exploring preschool standards and developmentally appropriate practice
Goals in offering preschool STEAM programs
Science programming for preschoolers
Technology programming for preschoolers
Engineering programming for preschoolers
Arts programming for preschoolers
Math programming for preschoolers

Week 3: School-age (K-6) STEAM Programming

Exploring school-age standards and developmentally appropriate practice
Goals in offering school-age STEAM programs
Science programming for school-age children
Technology programming for school-age children
Engineering programming for school-age children
Arts programming for school-age children
Math programming for school-age children

Week 4: STEAM Services & Resources

Passive programming with STEAM activities and experiences
STEAM displays that capture attention
Highlighting STEAM resources through publicity and readers' advisory
Program-planning resources
Funding, grants, and partnerships
Time Required: To complete this course, you can expect to spend 2½ hours per week, for a total of ten course hours. Each week's module contains readings and various options for assignments, discussions, or online meetings. You can choose the options most relevant to your work and interests. Although you can work on each module at your own pace, at any hour of the day or night, it is recommended that you complete each week's work within that week to stay in sync with other learners.
Who Should Take This Course: All library staff members, in both public and school library settings, who provide services to children (preschool-grade 6)
Online Learning Details and System Requirements may be found at: infopeople.org/training/online_learning_details.
Learner Requirements: None
After the official end date for the course, the instructor will be available for limited consultation and support for two more weeks, and the course material will stay up for an additional two weeks after that. These extra weeks give those who have fallen behind time to work independently to complete the course.
Keywords: Children's services, Programming