You are here
Home

/

Using Twitter for Professional Development Opportunities
Using Twitter for Professional Development Opportunities
An Infopeople Webinar
Start:
May 14th, 2014 12:00 PM
Start Time: Pacific - 12 Noon, Mountain - 1 PM, Central - 2 PM, Eastern - 3 PM
Presenter: Francisca Goldsmith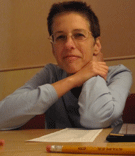 Have you dismissed Twitter as overwhelming, noisy, and beyond what you need to function as a good library service provider?
Are you looking for a free source for professional development opportunities that requires minimum time and produces maximum results?
Need a source for critical information delivered almost instantly?
Twitter as a ubiquitous, concise, and powerful social media platform is not a fad. It can, however, feel overwhelming, or even silly, if you don't take the very little time needed to get to understand its nuts, bolts, best practices, and professional power. During this webinar, reluctant social media users will receive all the tips and tricks needed to feel comfortable—and maybe even excited—about going where there's a professional development goldmine, already stocked with panning equipment and scales.
At the end of this one-hour webinar, participants will:
Know which three to five Twitter accounts to follow for maximum personal professional development satisfaction
Be confident about their own Twitter privacy as well as their Tweeting potential
Recognize themselves as curators of their own professional development opportunity access
Understand how to manage their Twitter time and other best practices related to using Twitter as a professional development tool
This webinar will be of interest to staff in any type of library looking for ways to incorporate Twitter into their professional resources.
Webinars are free of charge, you can pre-register by clicking on the Register Now button (at the top and bottom of this page). If registering with less than 30 MINUTES from the start of the webinar you can join directly from the thank you page by clicking the Join Now button. If you pre-registered you will receive an email with login link and a reminder email the day before the event.
Infopeople webinars can be viewed on iOS devices. Adobe® Connect™ Mobile for iOS
Webinar archive of this event will be available within 24 hours or sooner
---
Presentation Material
---
Chat

Chat: pdf [61kb]
---
Keywords: Communication and interpersonal skills, Professional development and efficiency