You are here
Home

/

Managing Challenging Patrons: Security for the New Library Environment
Managing Challenging Patrons: Security for the New Library Environment
An Infopeople Webinar
Start:
January 20th, 2016 12:00 PM
Start Time: Pacific - 12 Noon, Mountain - 1 PM, Central - 2 PM, Eastern - 3 PM
Presenters: Dr. Steve Albrecht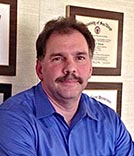 ​
Every library encounters challenging situations with patrons who seem eccentric, entitled or possibly even aggressive. We all know who they are. In this one hour webinar, Dr. Steve Albrecht, one of the leading national experts on library safety and security, will guide you through managing these challenging patrons effectively, efficiently, and without creating major disruptions in your library environment. Author of the new ALA book, Library Security: Safer Facilities, Better Communication, Steve has trained thousands of library employees on the do's and don'ts of handling difficult or challenging patrons who disrupt the library environment.
This fast-paced, entertaining, and empowering webinar offers practical, realistic tools to make your facility a better, safer place to work. Using a mix of real-life experiences as a law enforcement officer, knowledge of workplace behavior and security measures and a good sense of humor, Steve will teach you how to activate your "high-risk" customer service skills.
At the end of this one-hour webinar, participants will:
Understand the need for firm, fair, consistent, and assertive responses by staff when working with challenging or problematic patrons.
Have guidelines for creating and enforcing library Codes of Conduct that are positive in tone and clearly written.
Understand the importance for creating liaison relationships with law enforcement, mental health and other social service organization to assist when needed with the chronically mentally ill or homeless populations that enter the library
This webinar will be of interest to: Library staff in all types of libraries at all levels.
Webinars are free of charge, you can pre-register by clicking on the Register Now button (at the top and bottom of this page). If registering with less than 30 MINUTES from the start of the webinar you can join directly from the thank you page by clicking the Join Now button. If you pre-registered you will receive an email with login link and a reminder email the day before the event.
Infopeople webinars can be viewed on iOS devices. Adobe® Connect™ Mobile for iOS
Webinar archive of this event will be available within 24 hours or sooner
---
Presentation Material
---
Handouts

Library Cheat Sheet: pdf [63kb]
Library Employee Survey: pdf [65kb]
Library Security Survey Checklist: pdf [76kb]

Keywords: Customer service, Library policies