You are here
Home

/

Using Puppets in Children's Programming
Using Puppets in Children's Programming
An Infopeople Online Learning Course
Start:
October 25th, 2016 12:00 PM
End:
November 21st, 2016 4:30 PM
| | |
| --- | --- |
| Pricing | |
| California | $125.00 |
| Out-of-state | $200.00 |
Instructor: Lisa Shaia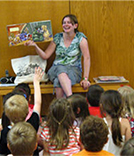 Would you like to start using puppets in your children's programs, but aren't sure how to start?
Do you want to acquire a list of books that are puppet friendly for the preschool or school age?
Do you want to learn different ways of using puppets including creating a puppet mascot and incorporating finger puppets with music?
Do you avoid using puppets in your programming because you are afraid?

Don't be shy! Through this course you will learn how to get over your fear of puppets by just being playful. You will also learn easy ways to incorporate puppets into your children's programs with preschoolers and school age children, including the nuts and bolts of building a puppet collection starting with a budget, how to ask for money for your collection and how to organize and use it with all ages. In addition, Instructor Lisa Shaia will explore developmental reasons to use puppets with children including leveling the playing field for school readiness, increasing children's participation and auditory skills, developing phonological awareness sequencing, and communication, and building comprehension skills, all while stimulating the imagination. Throughout the course you will collect a list of stories and songs that will help you to incorporate hand puppets and finger puppets into storytimes. Videos and cheat sheets in the course will also help build your confidence so you can start using your puppets today without fear!
Course Description: Through practical assignment, discussions, videos and an online meeting this four week online course will provide the opportunity for participants to learn how to incorporate puppets into their daily programming routine.
Course Outline: When you log in to the Infopeople online learning site, you will see weekly modules with these topics:
Week 1: Getting Started, or Using What You Already Have

The importance of using puppets
Building a puppet collection based on needs
Creating a budget for a puppet collection
Writing a monetary request for a puppet collection

Week 2: Age Groups: Pre-K and School Age

Acquiring books that can be used with puppets for preschool age
Acquiring books that can used with puppets for school age

Week 3: Expanding the Use of Puppets Beyond Books

Creating a puppet mascot for storytime
Acquiring songs that can be used with puppets for preschool age
Reading or storytelling using puppets

Week 4: Beyond the Basics

Organizing your puppet collection
Using a puppet stand
Using a puppet bin
Time Required: To complete this course, you can expect to spend 2 ½ hours per week, for a total of ten course hours. Each week's module contains readings, videos and various options for assignments, discussions, or online meetings. You can choose the options most relevant to your work and interests. Although you can work on each module at your own pace, at any hour of the day or night, it is recommended that you complete each week's work within that week to stay in sync with other learners.
Who Should Take This Course: Library Staff and teachers who work with preschool and school age children for the purposes of programming.
Online Learning Details and System Requirements may be found at: infopeople.org/training/online_learning_details.
Learner Requirements: None
After the official end date for the course, the instructor will be available for limited consultation and support for two more weeks, and the course material will stay up for an additional two weeks after that. These extra weeks give those who have fallen behind time to work independently to complete the course.
Keywords: children's services, puppets, children's programming