You are here
Home

/

Customizing Library Vendor Tools for Better Customer Service
Customizing Library Vendor Tools for Better Customer Service
An Infopeople Webinar
Start:
February 26th, 2015 12:00 PM
Start Time: Pacific - 12 Noon, Mountain - 1 PM, Central - 2 PM, Eastern - 3 PM
Presenter: Matthew Reidsma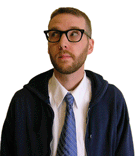 Are you struggling to make several vendor-hosted tools behave like a cohesive website?
Frustrated by the lack of customization available in your vendor tools?
Do your users get confused by vendor tools designed for librarians?
There might be an answer!
Using JavaScript, a simple scripting language that runs in a users browser, you can often make customizations to your library's online tools that your vendor could only dream of. In this webinar, I'll show you how to improve the usability of vendor tools with JavaScript, allowing you to tailor the tools to your users' needs.
PLEASE NOTE: While knowledge of JavaScript or other scripting languages can be helpful, it's not required.
At the end of this one-hour webinar, participants will:
Understand the limitations of working within traditional vendor-hosted systems
Describe the basics of how JavaScript can be used to alter vendor systems
Identify common usability problems in vendor tools
Create a plan for using JavaScript to make changes to vendor systems
This webinar will be of interest to public and academic libraries, technical staff and administrators.
Webinars are free of charge, you can pre-register by clicking on the Register Now button (at the top and bottom of this page). If registering with less than 30 MINUTES from the start of the webinar you can join directly from the thank you page by clicking the Join Now button. If you pre-registered you will receive an email with login link and a reminder email the day before the event.
This webinar will be presented with Closed Captioning. On the day of the webinar you can see the closed captioning in the Adobe Connect caption pod.
Infopeople webinars can be viewed on iOS devices. Adobe® Connect™ Mobile for iOS
Webinar archive of this event will be available within 24 hours or sooner
---
Presentation Material
---



Keywords: Technology