You are here
Home

/

Graphic Novels for Adult Readers: Recommending the Best
Graphic Novels for Adult Readers: Recommending the Best
An Infopeople Webinar
Start:
November 20th, 2013 12:00 PM
Start Time: Pacific - 12 Noon, Mountain - 1 PM, Central - 2 PM, Eastern - 3 PM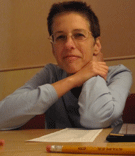 Presenter: Francisca Goldsmith
Are you wondering how to recommend graphic novels to adult leisure readers?
Are you uncomfortable talking with adults who want to discuss graphic novels because you're not the "staff expert"?
Do you know where to find essential graphic novel titles that should be included in most library collections?
Even though graphic novels continue to become more visible in library collections, adults often don't consider reading in this format. Staff providing reader's advisory may also feel at a loss when attempting to include graphic novels as suggestions.
This hour-long webinar will help staff broaden their skills by adding graphic novels to their recommendations. It will show how to locate satisfying and often little-known graphic novels that respond to both the subject interest and personal appeal factors in readers who have little experience with the format. Ideas for encouraging experienced comics readers to move to graphic novels will also be discussed.
Collection development staff will learn sources for graphic novels that are essential to most collections for adult leisure readers.
At the end of this one-hour webinar, participants will:
Know the history and key elements that make up the graphic novel.
Be able to discuss the literary appeal graphic novels will have for adult readers.
Recognize literary genres in graphic novel form.
Have techniques for recommending graphic novels to adults based on their other reading interests.
Please note: This webinar is aimed at those who work with adults and with materials published for the adult reader market. It will be of interest to readers' advisors and collection developers at any type of library serving adults.
Webinars are free of charge, you can pre-register by clicking on the Join Webinar button now or go directly to the webinar by clicking on Join Webinar within 30 of the start of the event. If you pre-registered you will receive an email with login link and a reminder email the day before the event. If you did not preregister and you can register in the 30 minutes prior to the event and directly enter.
---
Presentation Material
---
Chat, Q&A, Closed Captioning

Chat: pdf [107kb]
---