You are here
Home

/

Graphic Novel and Comic Collections for Teens
Graphic Novel and Comic Collections for Teens
An Infopeople Webinar
Start:
April 9th, 2014 12:00 PM
Start Time: Pacific - 12 Noon, Mountain - 1 PM, Central - 2 PM, Eastern - 3 PM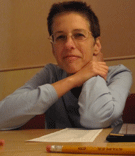 Presenter: Francisca Goldsmith
Are you confident that your collection development practices are providing the best in graphic novels and comics for teens?
Are you comfortable discussing the dynamics of graphic novel appeals with both teens and those who work with them?
Looking for specific titles that will provide access to topics of personal interest to teens and their curriculum needs?
Are you aware of the varied resources available to build teen collections with popular creators and titles?
Wondering where to find guidance, support, and new and innovative uses for comics-related programming?
During this webinar, we'll explore the assets found in graphic novel and comics formats that support adolescent development. We'll discuss collections that best address teen interests and needs, as well as resources that are strong in supplying ongoing information for collection development and readers' advisory work.
We'll share recent fiction and nonfiction graphic novel and comics titles, as well as programming ideas that address contemporary teen literacy development.
At the end of this one-hour webinar, participants will:
Be familiar with high interest topics for teens that are well represented in graphic novel and other comics formats.
Be familiar with perennial graphic novel creators, titles and publishers producing teen-friendly graphic novels.
Be able to locate resources for finding engaging and appropriate graphic novels for teen readers.
Be able to connect graphic novels and traditional print fiction and nonfiction when conducting readers' advisory work with teens.
Have tools for locating programming support, in both best practices and grant opportunities.
This webinar will be of interest to public and school library staff who provide services and collections to teen users.
Webinars are free of charge, you can pre-register by clicking on the Register Now button (at the top and bottom of this page). If registering with less than 30 MINUTES from the start of the webinar you can join directly from the thank you page by clicking the Join Now button. If you pre-registered you will receive an email with login link and a reminder email the day before the event.
This webinar will be presented with Closed Captioning. On the day of the webinar you can see the closed captioning in the Adobe Connect caption pod.
Webinar archive of this event will be available within 24 hours or sooner
---
Presentation Material
---
Chat, Closed Captioning

Chat: pdf [82kb]
---
Keywords: Collection development, Teen services, Young adult services