You are here
Home

/

Veterans and Public Libraries: What Every Librarian Should Know
Veterans and Public Libraries: What Every Librarian Should Know
An Infopeople Webinar
Start:
May 23rd, 2013 12:00 PM
Presenter: Kristen Mulvihill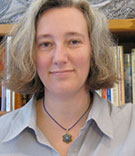 Do you know how many veterans live in your community, what services they need and how you can help them improve the quality of their lives? Libraries offer:
A welcoming access point for those seeking benefits.
Meeting space for service organizations.
Events and programs providing resources and a sense of community.
Library staff with strength in navigating sometimes complicated information systems.
This webinar will review some basic concepts for library professionals who seek to learn more about serving veterans in their community. We will:
Discuss who our veterans are, and the family members and caregivers of veterans who are part of the larger veteran community.
Review the congressionally chartered veteran service organizations and resources where veterans can go to seek assistance with healthcare, finances, and mental health issues.
Learn about some of the ways in which California libraries are currently serving the veterans in their communities and what strategies might work for your library in connecting with veterans in your area.
This webinar focuses primarily on California libraries and veterans, although many of the principles discussed are applicable in libraries throughout the country.
At the end of this one-hour webinar, participants will:
Be able to assist a library visitor with locating general resources for veterans, specifically where the main offices of the V.A. and the local County Veteran Service officer are located.
Be familiar with the types of organizations that serve veterans and how to locate them on behalf of a veteran.
Be familiar with the main branches of the military, types of veterans, and ongoing challenges of veterans and their families who may seek assistance from a public library.
Be able to offer written or online lists of resources for veterans to learn about transportation, registering with CalVet, locating a veteran organization, or accessing crisis lines if they request this information at a library reference desk.
Be familiar with opportunities to create new programs or events for veterans in your community.
This webinar will be of interest to reference staff, branch staff, managers, fund-raisers, diversity coordinators in public and academic libraries.
Webinars are free of charge, you can pre-register by clicking on the Join Webinar button now or go directly to the webinar by clicking on Join Webinar within 30 of the start of the event. If you pre-registered you will receive an email with login link and a reminder email the day before the event. If you did not preregister and you can register in the 30 minutes prior to the event and directly enter.
Presentation Material
---
Handouts

References and Resources: pdf [64kb]

Chat

Chat: pdf [72kb]
---