You are here
Home

/

I Didn't Know I Was a Veteran
I Didn't Know I Was a Veteran
A Veterans Connect Webinar
Start:
January 26th, 2021 12:00 PM
Start Time: Pacific - 12 Noon, Mountain - 1 PM, Central - 2 PM, Eastern - 3 PM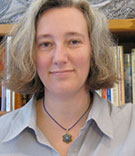 Presenter: Kristen Mulvihill, army veteran, librarian, author of Serving Those Who Served: Librarian's Guide to Working with Veteran and Military Communities.
Understanding veterans and where they come from is a large part of what we do in public libraries, especially in terms of being an inclusive and welcoming hub of information for people from all walks of life. Starting a conversation with a veteran can be difficult, however, if we don't know who they are. And sometimes veterans don't even know who they are. Others don't think they have the right to ask for resources. Others just don't want to talk about their past. But the veteran population in California remains the largest in the United States. There are an estimated 19.5 million veterans in the United States, and most of us have a connection with a veteran, because we are a veteran, or have a veteran family member, or are friends with a veteran. Organizations and resources available to veterans are constantly changing. Especially now, as many people are seeking new employment after the pandemic has affected job security throughout the country, it is vital for librarians to understand the veteran community – veteran service organizations providing resources and the people who seek them. This webinar will cover aspects of veteran culture, how to tap into some amazing tools to help them connect with the wider veteran community, and how to add to our outreach efforts so that our long-term mission in public libraries always includes serving those who have served.
At the end of this one-hour webinar, participants will:
Be able to anticipate questions that veterans and their family members might ask, even if the veteran or family member isn't sure what to say.
Have increased knowledge about who veterans are and the resources and organizations available to them.
Be able to enhance outreach practices to include organizations serving veterans, as well as unique organizations that serve veterans who need immediate support.
Review ongoing efforts in California to assist the veteran community: Veterans Connect @ the Library and Brainfuse's VetNow online resource.
This webinar will be of interest to: Library staff seeking resources for underserved populations, including the diversity of people who have served in the military and the people who care about them. You'll find ways to boost your confidence when interacting with veterans and the organizations that offer resources for them. And you'll learn about how to connect with other librarians and the statewide initiatives that are out there for you to use.
Veterans Connect is supported in whole or in part by the U.S. Institute of Museum and Library Services under the provisions of the Library Services and Technology Act, administered in California by the State Librarian.
---
Presentation Material
---