You are here
Home

/

Emerging Tech Trends in Libraries – Part 7
Emerging Tech Trends in Libraries – Part 7
An Infopeople Webinar
Start:
May 23rd, 2017 12:00 PM
Start Time: Pacific - 12 Noon, Mountain - 1 PM, Central - 2 PM, Eastern - 3 PM
Presenter: Laura Solomon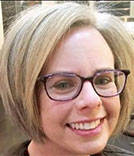 ​
With so much new technology coming at us so fast, it can be difficult to keep up. As part of the Emerging Tech Trends series, presenter Laura Solomon continues the exploration into emerging technology trends, and how these trends might (or might not) re-shape library services.
Topics for this part 7 webinar include:
How Artificial Intelligence continues to surprise us (corporate audits, corporate directors, Pinterest, humanitarian use, legal and health care, predicting what you'll buy)
Shopping trends (omni and multi-channel shopping, even more mobile, uber-ization of deliveries, goodbye wallets)
Live game streaming, video is the new blogging, sensors, data storage gets really, really cheap, 3D printing is exploding
Remember, we can't track everything, but we can pick out some patterns in what's currently happening around us.
At the end of this one-hour webinar, participants will:
Be familiar with 2 or more emerging technology trends in 3 different categories
Be aware of how some emerging technologies may affect libraries
Learn some specific areas of emerging technology that libraries should likely focus their efforts on
This webinar will be of interest to: Staff in all types of libraries interested in emerging technology trends and how they might affect libraries and/or their patrons.
Emerging Tech Trends in Libraries - Series Infomation
Webinar 1: Wednesday, December 9, 2015, presented by Laura Solomon
Webinar 2: Tuesday, February 2, 2016, presented by David Lee King
Webinar 3: Tuesday, March 1, 2016 presented by David Lee King
Webinar 4: Wednesday, June 15, 2016 presented by Laura Solomon
Webinar 5: Wednesday, October 25, 2016 presented by Laura Solomon
Webinar 6: Tuesday, February 21, 2017 presented by Laura Solomon
Webinar 7: Tuesday, May 23, 2017 presented by Laura Solomon
Webinar 8: Tuesday, May 8, 2018 presented by Laura Solomon
Webinar 9: Wednesday, Jan 23, 2019 presented by Laura Solomon
Infopeople webinars can be viewed on iOS devices. Adobe® Connect™ Mobile for iOS
Webinar archive of this event will be available within 24 hours or sooner
---
Presentation Material
---